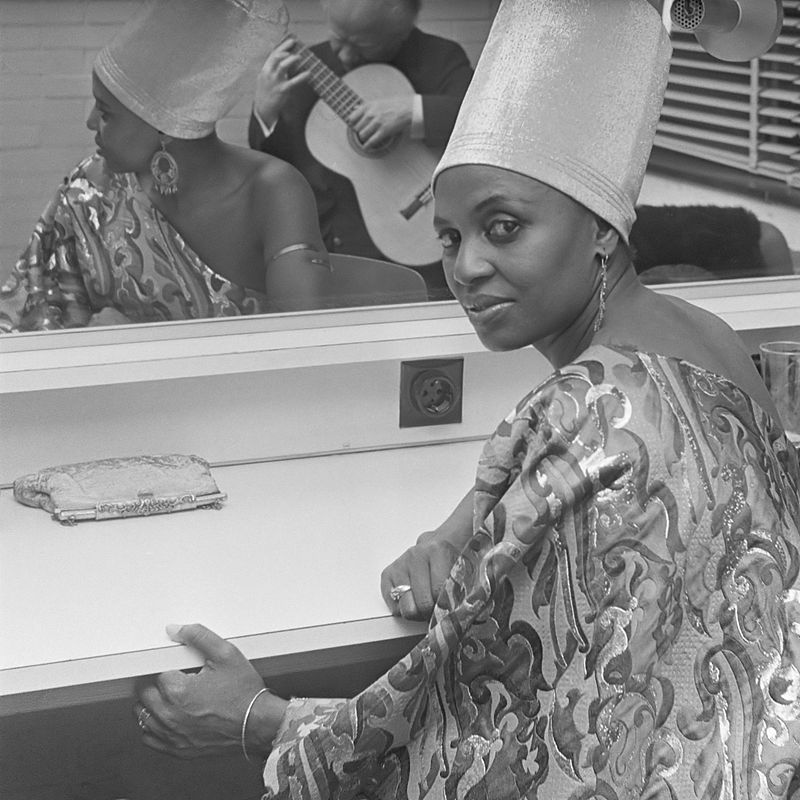 Miriam Makeba, also known as "Mama Africa," was a popular South-African singer. She introduced Xhosa and Zulu songs to Western audiences. She is best known for the songs "Pata Pata" and "The Click Song".
Early Life
Miriam Makeba was born Zensi Miriam Makeba on March 4, 1932, in a Township, near Johannesburg, South Africa. She grew up in poor conditions. Her mother worked as cleaner and illegaly brew beer, to earn extra money. That's why her mother was imprisoned and why Miriam Makeba spent her first months behind bars. Makeba began singing in her school choir as a young girl, and by the mid-1950s, she was landing local gigs as a full-time professional singer. By the end of the decade, she had made a name for herself throughout South Africa. At the age of 18, Miram Makeba gave birth to her first and only child Bongi Makeba.
International Career
In 1959, Makeba's singing appearance in the documentary Come Back, Africa attracted the interest of Harry Belafonte. The film tells the story of Zachariah, a black South-African man living under the rule of the nation's oppressive apartheid government. With Belafonte's help, Makeba settled in the United States, where she embarked on a successful singing and recording career. Miriam Makeba was also a prominent civil rights activist, speaking out against apartheid in South Africa. That was the reason why she was denied to return to South Africa in 1960. Subsequently, she lived in exile for three decades.
Makeba's song "Pata Pata," was her most popular single. She is also well-known for "The Click Song" and "Malaika," and for introducing to the West a number of Xhosa, Zulu and Swahili songs.
In 1959 she sang the leading role in the South African musical King King1964, where she met famed trumpeter Hugh Masekela. She married Hugh Masekela, but soon after, the couple divorced. In 1968, Makeba wed Trinidadian-American civil rights activist Stokely Carmichael.
In 1965, she and Belafonte released the album An Evening with Belafonte & Makeba, which earned Makeba and Belafonte a Grammy Award for best folk recording in 1966.
In the mid-1980s, Makeba met famed American musician Paul Simon, with whom she performed as part of Simon's famous Graceland tour. The tour focused attention on apartheid in Makeba's homeland. Nelson Mandela encouraged Miriam Makeba to return to South Africa after his release from prison in 1990. With Carmichael, she relocated to Africa, where the couple settled in Guinea. Makeba and Carmichael divorced in 1979, after nearly a decade of marriage.
Final Years
Miriam Makeba continued making music and fighting for causes that she believed in. She died of a heart attack on November 9, 2008, at the age of 76, in Castel Volturno, Italy.
By the end of her career, she had recorded 30 original albums and 19 compilation albums.