Nelson Mandela was a member of the resistance, who, together with many fellow fighters, had the Apartheid abolished. Apartheid was a policy in South Africa, which separated non-white people from white people, and which discriminated against and oppressed Blacks. Nelson Mandela had to go to prison for his political opinion. In this way, he became a symbol of freedom for the African people and the entire world. After his release, he was elected the first black president of his homeland.
Nelson Mandela – a boy from the countryside
Nelson Mandela was born in the village Mveso in Transkei. It was the 18th of July 1918, a cold winter day. Mandela's father belonged to the Thembu monarchy, a branch of the Xhosa people. At that time, the kings barely had any say. The white government used them as middlemen, who had to bring the unjust laws home to their subjects and had to ensure peace in the country. Nelson Mandela's father was the Thembu king's advisor. He felt very conflicted. He profited from his service to the white government and thus achieved affluence. However, his advice was not in line with the interests of his tribe. His son was thought to do better than he did someday. He named him Rolihlahla. This name means 'him, who pulls the branch of a tree', describing a troublemaker. This name was a mission for his son. He had to be a troublemaker to ban the foreign domination over the Blacks.
Nelson Mandela – a diligent missionary student
Nelson Mandela was a cheerful child. He spent most of his time with competitions and tussles with the other boys in the neighbourhood. He dreamed of becoming a boxer. When he was five years old, his father assigned him with the task of herding the sheep and calves of the family. Through an unaptness, his father lost his entire property. He sent Mandela to the village Qunu a couple of valleys away, along with his mother and siblings. There he visited the missionary school. Thereby, Nelson Mandela was the first of his family to go to school. It was the custom in the missionary schools to give African students Christian names. The teacher of this school gave Rolihlahla the English name 'Nelson'. When Nelson Mandela was nine years old, his father died. Suddenly, he had to take responsibility for his family.
Nelson Mandela – a chieftain's son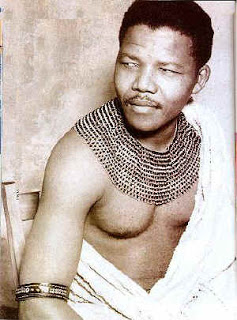 After his father's death, Nelson Mandela became constituency district operator of the Thembu monarchy. His uncle Jongintaba determined his further path. Mandela was to receive a western education and to undergo Thembu rituals. Aged 16, Nelson Mandela was initiated. According to his ancestor's traditions, he was circumcised and thereby accepted into adulthood. Jongintaba sent him to the College of Fort Hare in the Eastern Cape province. Was Nelson Mandela a good student? Rather moderately. He was proud and struggled to submit to the arrogance of the white teachers at college. He was a born leader and had a way with words. Nelson decided to become a lawyer. He enrolled at Witwatersrand University and studied law. In Witwatersrand he met his eventual companions. They all were full of anger against the white government and willing to fight for their rights.

Nelson Mandela – Advocate of the Blacks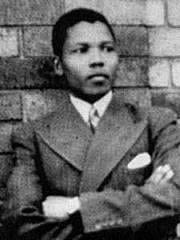 With his fellow campaigners, Nelson Mandela founded the youth division of the ANC, the African National Congress. It was their goal to fight against racial segregation. At first, Nelson Mandela believed he could change the unjust conditions through nonviolent resistance, just like his idol, the Indian freedom fighter Mahatma Ghandi. When the police put down a demo of students with brute force, he changed his opinion. He was convinced that only violence could succeed in the fight against the unjust politics of the White. He was trained as a resistance fighter. He committed attacks on white government buildings and industrial facilities. Yet, he never wanted to harm any people. He was hunted down as a terrorist by the government. Suddenly, he was the most wanted man in South Africa. Nelson Mandela went into hiding, dressed up as driver or disguised as gardener. He went to gatherings and held speeches. Nonetheless, he was discovered one day and thereupon arrested. Later it turned out that spies of the American secret service had disclosed his trace to the white Apartheid regiment.

Mehr zur Apartheid in Südafrika
Nelson Mandela – the world's most famous prisoner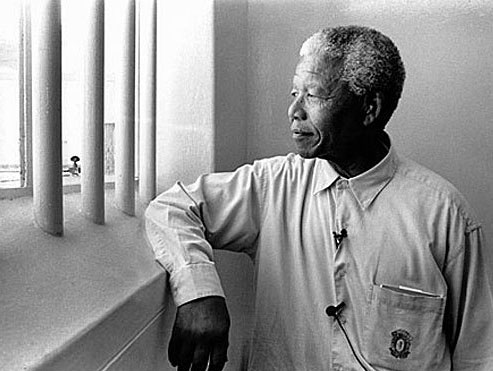 Nelson Mandela was brought to trial. With great inexorability, the judges sentenced him to 27 years in prison. He disappeared behind the walls of a prison in Robben Island. The island is located off the coast of South Africa, not far from Cape Town. The current there is so strong, that no prisoner had ever been successful in swimming to the mainland. Nelson Mandela was forced to work in the stone pit every day; he barely saw his family. He got sick, but he kept his chin up. He fought for better prison conditions and education possibilities. At night, he wrote a report about his fight against the Apartheid. Fellow inmates smuggled the pages out of the prison. The report was published, the title of the book was 'Long Walk to Freedom'. The book stirred up the public. Also worldwide, people united to end the unjust political situation in South Africa. The protest was successful. In 1990, Nelson Mandela had to be released from prison. He left the prison with a raised fist. He wanted the people to know, that the fight was not over yet.

Nelson Mandela – Africa's most prominent politician
After Nelson Mandela was released, his real fight started. The land was divided, black and white people unforgivingly stood face to face. Step by step, the worst excesses of the Apartheid were eliminated. The Homelands were abolished; Blacks were allowed to move freely across the country and were able to visit the schools they wanted. A reconciliation committee between Blacks and White people was assigned. Again and again, the country was in imminent danger of a civil war. However, Nelson Mandela and his fellow campaigners were successfully preparing a peaceful future with the white politicians. In 1994, democratic elections were held for the first time in South Africa. All peoples from the Rainbow Nation went to vote and elected Nelson Mandela the new president of the country.

Nelson Mandela – cooler than a rock star

Nelson Mandela was not allured from his belief that the fight against the Apartheid had to be fought with all means possible. He was even willing to die for his beliefs. When he was offered early release after many years of prison, he still stayed true to his principles. He insisted on the medium of violence to end unjust conditions. For that he even accepted longer jail time. It was his biggest wish that all people in South Africa could enjoy the same rights, no matter the skin colour. For his 70th birthday – he was still behind bars – many famous pop stars gave a concert in his honour called "Free Nelson Mandela" in London. 'Nelson Mandela is cooler than a rock star' said singer Peter Gabriel. On the image on the left you can see Nelson Mandela with Joan Armatrading at a concert in London.
The legacy of Nelson Mandela
Nelson Rohliahla Mandela died in the evening of December 5, 2013, in his house in the suburb Houghton by Johannesburg within his family circle. Black and white people mourned the former freedom fighter together. With his reconciliation politics, he prevented a civil war in difficult times. His legacy: stay true to your beliefs. His message: Nobody is born with hate against other people for their skin colour, ethnical background or religion.
Private facts about Nelson Mandela
Nelson Mandela was married three times, his first wife and political companion was Winnie Madikizela-Mandela, and his last wife is Graca Marchel.
He had six children and 20 grandchildren.
His favourite sport was boxing.
His favourite food: polenta with tripe.
His favourite poem: Invictus. Clint Eastwood named his film about Nelson Mandela after this poem.
In 1993, he received the Nobel Peace Prize.
The 18th of July is Nelson Mandela day in South Africa. On this day, the people are supposed to take 67 Minutes of their time to help other people and do something for their country. One minute for every year that Nelson Mandela has put himself out for South Africa.