In African children's books you will find a wide range of family stories. We learn about family affairs in Africa, adventures with parents, grandparents and even great-grandparents.
I lost my Tooth in Africa
written by Penda Diakité, illustrated by Baba Waque Diakité. New York: Kane Miller 2006.


Penda grew up in Portland, Oregon, her father comes from Bamako, Mali, which is in West Africa. Penda travelled with her family back to Africa each year to visit their African family in Bamako.[nbsp] Inspired by her father's storytelling and the family trips to Africa, Penda told this story which actually happened to her little sister, Amina. It was about the time her family was en route to Mali, when her sister discovered she had a loose tooth. More than anything, Amina wanted to lose her tooth in Africa so that she could leave it under a gourd, and the African tooth fairy would bring her two chickens![nbsp] After she hides it under a calabash, she waits for the African tooth fairy to replace it with a chicken. When her patience runs out and she returns to the gourd to retrieve her tooth, a chicken and a rooster emerge. She is delighted. When Penda and Amina return home to Oregon, Uncle Madou volunteers to take care of the chickens until her return. At the end are the words to Grandma N'na's Good Night Song, the recipe for African Onion Sauce, and a glossary of Bambara words, just to get a feeling of the sounds of Mali.
The illustrations of Baba Diakité are vivid and detailed, they show why he is sad to leave and looks forward to coming back.
Mama Panya's Pancakes
by Mary Chamberlin, Rich Chamberlin. Illustration: Julia Cairns. Barefoot Books 2006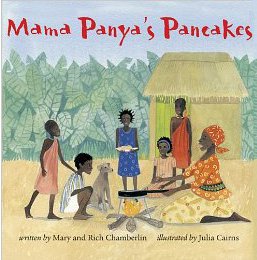 Mary and Rich Chamberlin love to travel, collect stories from all over the world and show us that "We Are All One." The authors picked up story about Mama Panya and Adika in Kenya, where people are very hospitable no matter how poor they are.

Mama Panya and her son, Adika, are ready for market day where Mama is planning on using her few coins to buy the ingredients to make pancakes for dinner. Adika is so excited that he can't help inviting all of their friends and neighbors. Mama Panya is worried that his generosity may be more than her few coins and their meager supplies can provide. Luckily all of the guests arrive with gifts, and a Kenyan cross between "Stone Soup" and the story of the loaves and the fishes is realized. The old tradition of sharing all one's food with others works everywhere. With a recipe for spicy pancakes, map, information about local animals and village life in Kenya and some general facts.

The illustrations with their bold colors and lush scenery transport you into Kenya. Details from animals to foliage are depicted clearly and introduce to the landscape of East Africa.
My Great-Grandmother's Gourd
by Cristina Kessler. Illustrator Walter Lyon Krudop (New York: Orchard Books/Grolier, 2000).
Sudan is a country in northeastern Africa. Water is rare, especially during the dry season. Cristina Kessler, a longtime resident of Africa, tells a story about a culture, who is facing the challenge of change today.

The Sudanese girl Fatima lives in a village. The people in her village are pleased with the new shiny new water pump, that is installed. Fatima is the first to push the handle to get water the easy way. Never again will she has to use old methods for getting water - so she thinks like almost all villagers. Except her grandmother. She remembers how people relied on storing water in the baobab trees in the past. Since thousands of years the villagers coped with the dry seasons by storing water in the trunks of the baobab trees. But with the new pump, nobody prepares their trees except Fatima's grandmother, who is skeptical about disregarding the "old ways." Despite the ridicule of her neighbors she fills her tree. And Fatima helps her. When the pump breaks during a drought, the villagers flock to the baobab, as grandmother says, "Maybe it's wise to mix old with new."

Fatima's grandmother speaks of the olden days and Fatima is able to learn and appreciate the ways of her elders. The impressionistic oil paintings of Walter Lyon Krudop are detailed, and show more of the Sudanese village life. greatly enhancing the story. A wonderful book to bring generations together or to learn from different cultures.

Ages 6-9.
Babu's Song
by Stephanie Stuve-Bodeen.

Stephanie Stuve-Bodeen was raised on a dairy farm in Wisconsin. She went to Tanzania as a Peace Corps volunteer. Her experience in Africa inspired the setting and characters for her heartrending story about the Tansanian boy Bernardi.

Bernardi loves to play soccer with the local schoolboys, but he doesn't have enough money to attend class. He lives with his grandfather, Babu, a mute toymaker, who fashions toys out of bits of tin and scraps of wood. Bernardi sells the toys at a market taking his part in earning a living for him and Babu. One evening Babu surprises his grandson with a music box he has made that plays their favorite melody, Babu once used to sing. Bernardi loves the song and he cherishes this gift, until he's offered a large sum for it at a street market. The amount is enough to buy a coveted soccer ball and finally he sells the box. Guilt-ridden, he's unable to buy a coveted soccer ball, as he had planned. Tearfully he hands over the money to Babu, who comforts him with a handmade soccer ball from string and a gunnysack. The money Babu uses for a big surprise: he buys a uniform and enrolls Bernardi in school.

Stephanie Stuve-Bodeen describes the loving relationship of Bernardi and Babu with dignity and respect as well as the appealing watercolors of Aaron Boyd do.